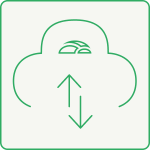 Enjoy a highly available Canopsis (HA) in SaaS mode!
In addition to "on premise" hosting, Canopsis will be offered on SaaS platforms.
Event publication and repository synchronization will then be carried out securely via the tool's API.
A library of pre-configured dashboards will be made available.
For more information on technical features, please refer to the documentation.